Are you looking for the best orthopedic dog beds? Here's a list of some of the very best to choose from.
FurHaven Ultra Plush Luxe Lounger Orthopedic Dog Bed
Dogs instinctively know what is comfortable and what is comfortable and warm for your furry friend is FurHaven ultra plush luxe lounger orthopedic dog bed.
Compared to other brands, FurHaven brings you a reasonably priced orthopedic bed that consists of a unique contour shape that sets it completely apart from other orthopedic dog beds. The bed is known for being simple, supportive and warm. Made with soft foam, the sloping sides of the bed are designed in such a way that it will allow your dog to rest his/her head comfortably.
In general, the cover fabric of the bed consists of a thin and soft covering which is perfect for summer and the plush cover of the bed can be removed for cleaning. However, it is important to remember that since the orthopedic dog bed does not have any built-in support to keep it in place, you should place it against a wall to keep it from shifting.
Average Price: $45 for Large
Customer Reviews: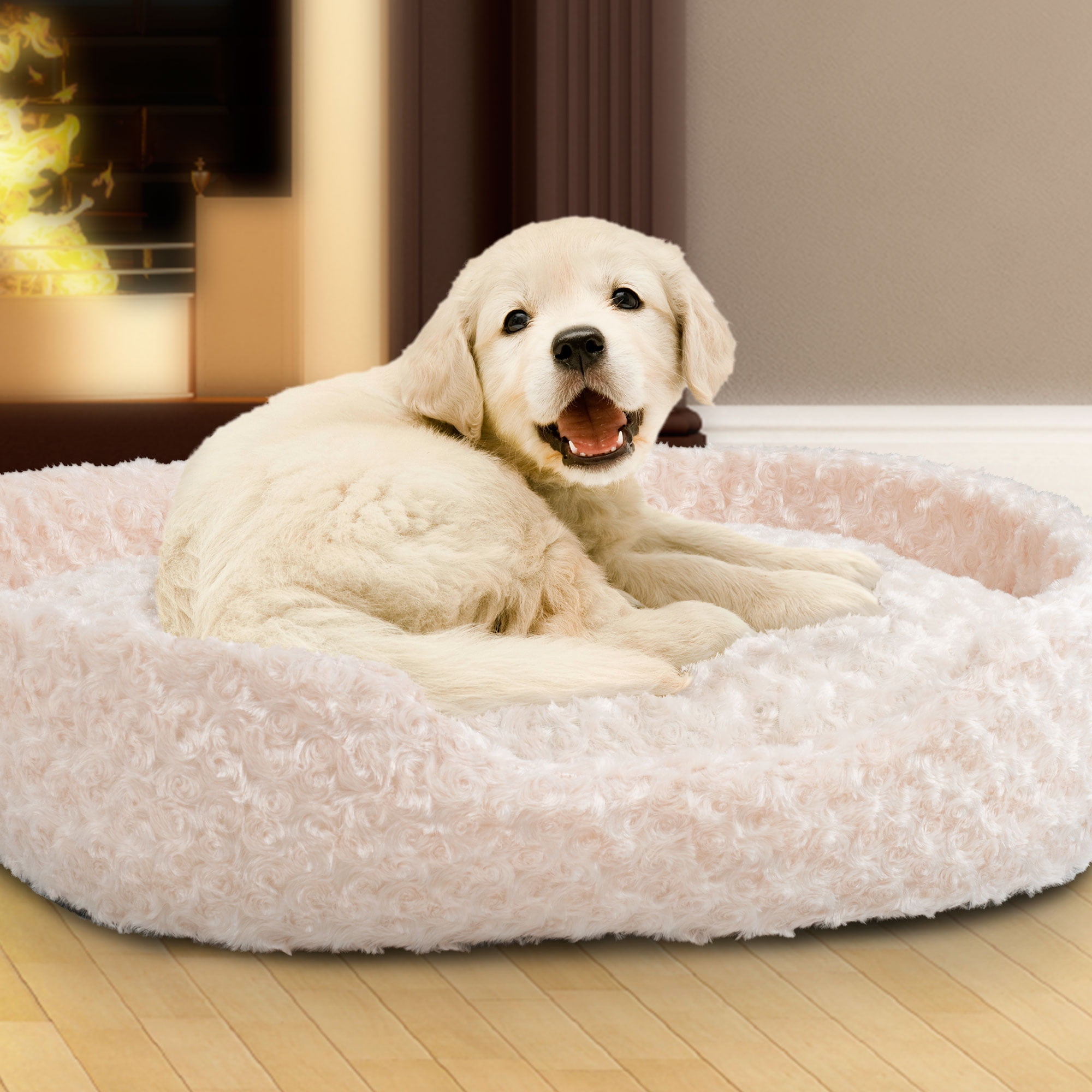 "Comfy Bedding. My sweet Old Man dog needs comfort for many reasons. He seems to have taken to this bed pretty well. I love that you can take the outside off to wash it. I place water proof padding in between so that the foam is protected, it would be a plus if it came that way. I love that it has the curved lifted edges, they lay their heads on it. The bedding is extra soft as well. I think I need to buy another one. I have 3 labs, and they all gravitate to the bedding or my lap." –From Dafurbabies
"Got super lucky and the Ultra Plush Chocolate, GIANT size, ortho foam version was ~$45 ($0 sh/h, Prime) when I bought it (8/3/22, currently $131 8/30/22). Must have been the last one, on sale, and Black Friday in August or something, who knows. For THAT price point, absolutely a phenomenal purchase. Like many of us, have certainly paid more for a much lesser product. With the blessing of hindsight now that I already own it, I'd definitely still pay $131 for this size and quality. If you're balking at cost, don't. Go for it. Cover stitching is solid, and doesn't feel like it's going to fall apart on it's own anytime soon. One of the review categories was 'chew proof', had to only give 1 star there: can't imagine this fabric will hold up to much chewing at all, fortunately not a problem I have to worry about. The Ultra Plush material is like short fur, very soft, feels cozy, and is only about 3/8″ tall so it's easy to pick out any debris (like missed bits of a treat etc) or shake it off. Underside of the cover does not have any anti-slip coating/rubberized bumps/so on, so beware if you're putting on a smooth surface like hardwood or laminate etc. The Ultra Plush is only referring to the cover material, not the bed's actual firmness. My 80lb pup does not sink deep into the ortho foam much at all, but it is still seems to be extremely comfortable, as he will sleep nowhere else in this office. Foam's also decent stuff, and not just two slabs of crappy egg-shell foam sandwiched into a cover like most other 'orthopedic' foam beds I've owned/looked at. The bolsters on both ends are great, probably about 4 inches height difference from the middle/low center on the GIANT size, excellent for a dog who loves to prop their head up on arm rests or couch backs etc. Foam was rolled up and factory-compressed quite a bit on arrival, but had no issue decompressing back to full size in just a few hours. No chemically smells or anything like you might have experienced with other foams.
Giant really is giant. Go measure your space to be sure you're going to fit. By some miracle, the dimensions on this size perfectly fit the available space I'd built for my super spoiled boy." –From Chuck