Sometimes, don't you just enjoy pampering yourself? And, I would say, sometimes, even when you are on a budget, you will never ditch pampering. But, then, can't you do the same for your furry friend?
#1. Take Your Dog for a Swim
First of all, let me inform you that not all dogs love water. Mine, she dislikes water so much that even when I am giving her a bath, it can seem as if she is going to die in the shower itself. And, her howls of dismay can break glass and even make grown men weep.
But, if you know your dogs love water (for example, some breeds such as the Labrador Retriever can be drawn to water like a magnet), this is your chance to spoil him by letting him take a dip. You can bring along a ball or his favorite toy. And, try to look for a safe body of water, free of strong currents and let your dog dive in (you can also jump in if you want your dog to have some more fun).
And, remember if this is the first time your dog is going for swimming, take things slowly and fit him with a life jacket.
#2. Go to the Beauty Parlor
Remember how we talked about scheduling a massage for your dog (you can refer to the first blog article). Well, you can also treat your dog to a new 'do with a professional dog stylist (I am sure there must be a good canine groomer in your town, so go ahead and book that appointment).
Do you know how torturing the summer heat can be for dogs with long coats? So pamper your dog by getting him a summer haircut. In addition, your dog will be on cloud nine with clean teeth, a stylish coat, trimmed nails, and squeaky clean ears.
#3. Paw-Dicure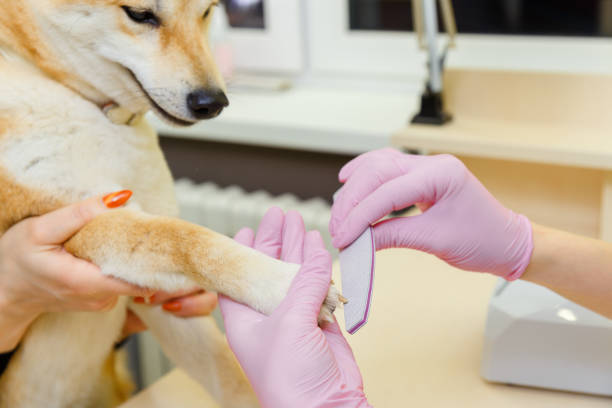 If your dog has never get groomed before, now is the time to pamper him and polish his doggy toes.
You have two options: you can either spend your money for a professional job at a local luxury canine salon or take the matter in hands and opt for a DIY method (that is, an at-home dog nail treatment).
#4. Take Your Dog on a Romantic Dinner Date
Come on, romantic dates are not limited only to human beings.
What you can do is to choose a dog-friendly restaurant and take your special pooch out for a romantic and nice dinner for two.
#4. Get Your Dog a New Luxury Bed
For those who want to take the pampering to another level, I suggest choosing a bed with high-density memory foam. This type of bed will provide an extra dose of comfort to your dog, especially dogs with joint pain and other forms of arthritis.
You can also opt for a high-quality donut shag cuddle bed with a raised rim. This is a great option that can provide a sense of security to those dogs who become anxious as soon as they hear thunder or fireworks.
#5. Build (or Buy) A Doggie Mansion
How can you let your dog live in a small, cramped and squalid place when you are living in a mansion (ok, if not a mansion, well, a comfortable house at least)?
Whether you custom-design a Victorian palace or buy a prefab "modern chalet", you are not only pampering your dog but also giving him a safe and comfortable space.
#6. Or, Make Your Dog His Own Room
Nothing screams more pampered than a custom dog room, even if it means a closet, space under the stairs or a full room in your house. And, you can fill it with some nice décor, for example, your dog's favorite blanket, a cozy bed and without forgetting, lots of doggy toys.
Whether it's some spa time or a Scoobie snack, there are several ways to spoil your dog silly. And, well, when our furry friend is happy, even we are happy, isn't it?